ALLEVEN is an Italian based cosmetic brand founded on the belief that taking care of your face & body should be a joyful experience.Our philosophy is to treat our customers with respect and honesty, and to deliver on our commitment to provide the highest quality products while being environmentally conscious. ALLEVEN's first product, COLOUR SHIELD, was created to answer the need for a high-performance body concealer with an elegant and sophisticated touch, inspired by the demands of the modern woman who wants to look her best at all times.
To answer the needs of our community today, ALLEVEN offers a new and expanded makeup and skincare collection for both face & body with our award-winning, game-changing, next-generation, clean formulations.
At ALLEVEN we believe "confidence is the real beauty", and when you feel good, you look good.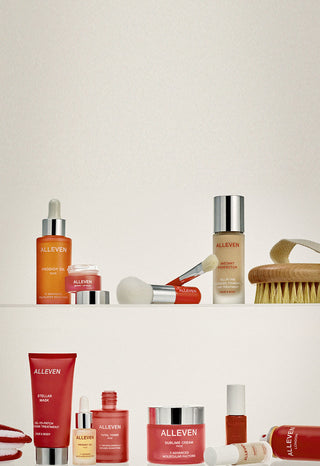 After years of searching for, and not finding, an effective body concealer to be used year round and on any occasion, Celia Forner decided to create it. The result was ALLEVEN COLOUR SHIELD, an award-winning, Celebrity must-have body airbrush foundation with an innovative water & transfer-resistant formula that provides an instant veil of perfection, all the while protecting and hydrating your skin from the rigors of every-day life.
Since its creation, and through its rapid popularity, ALLEVEN's core values have always been focused on delivering products that are cutting-edge, multi-functional and agile, and that improve the appearance of the skin from head-to-toe. Today ALLEVEN has expanded into an elegant and sophisticated collection of perfectors, tools and skincare treatment.
A former Top Model, Celia is a passionate connoisseur in beauty, fashion, art and design.
Photo Credit: Paco Navarro